MTA Reporter
The MTA Reporter is 'The Voice of MTA Retired Members'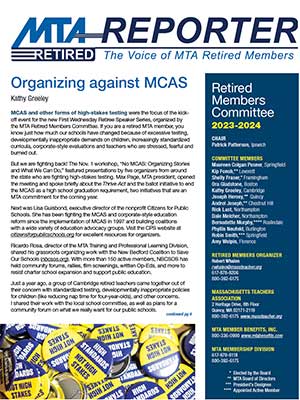 Wisdom Warriors in Action
MTA Retired members joined in several contract actions over the past several months, lending support to educators in Quincy, Amherst and Braintree, among other locations. The Wisdom Warriors is the statewide program of the Retired Members Committee.
The program has coordinators in eastern and western Massachusetts, to help coordinate activities for members who want to remain involved after they leave work at schools and campuses.
To join the list of members receiving requests to participate in local union activities, please send an email to mtawisdomwarriors@gmail.com.